Homophobes, Caitlyn Jenner Got The Espy!! Get Over It!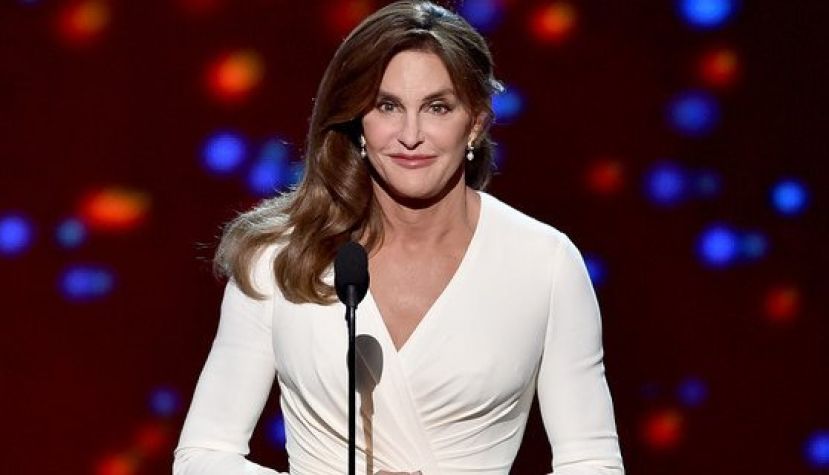 Ignorant HOMOPHOBES, Get Over It! Caitlyn Jenner Got The Espy!! Screw you haters who don't like it!! Cluck yall!! Yes, I'm pissed!! Yes, I'm in total disbelieve!! Yes, I'm thoroughly disgusted by this kind of ignorance, that's still happening in 2015!! I'm a former championship track runner and as an athlete, I know that it takes EVERYTHING you have to achieve success at that level of athletics!! You give up your ENTIRE life!! So SHUT THE HELL UP!! Back up off of Caitlyn!! And let her have her day in peace!! IDIOTS!!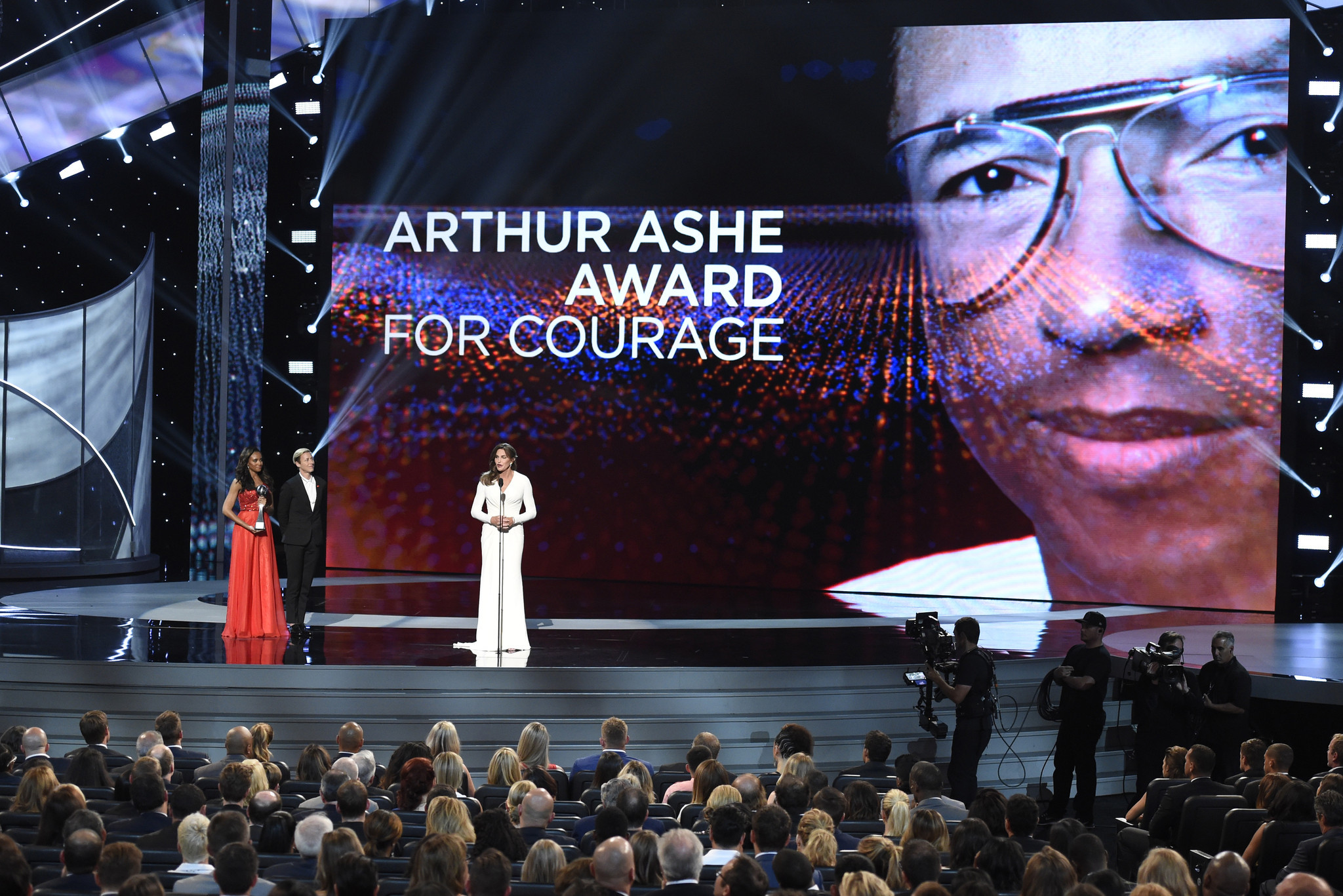 Listen, the producers of the Espy Awards made the ABSOLUTE right decision to Honor #CaitlynJenner with The Arthur Ashe Courage Award. "I think Caitlyn's decision to publicly come out as a transgendered woman and live as Caitlyn Jenner, displayed enormous courage and self-acceptance," Maura Mandt, ESPYs co-executive producer, tells Sports Illustrated. EXACTLY!! Understand, Bruce Jenner broke Olympic records!! Bruce Jenner is "The World's Greatest Athlete!!" Bruce Jenner graced the cover of Wheaties Boxes!! So be real clear, being transgendered don't change those facts!! How dare y'all to even flinch at the fact that she is deserving of such an award, because little do y'all know, this award is ALSO about athletes who do courageous things that transcends sports!! And Caitlyn is the poster child for that!!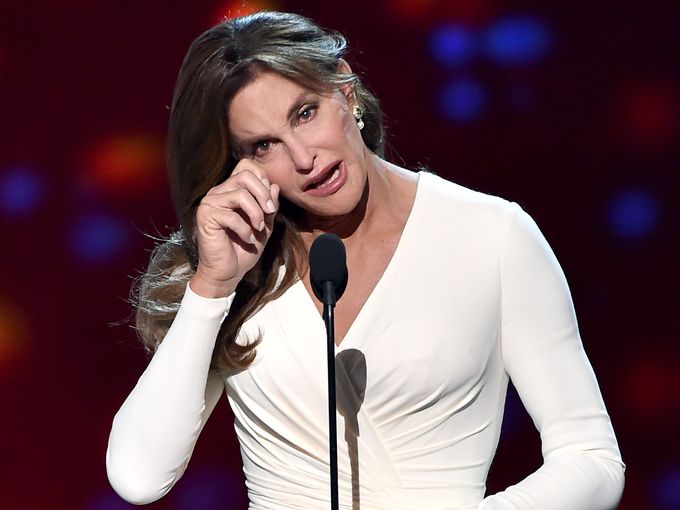 QUESTION: Do y'all realize the courage it took for her to get her Adam's apple surgically removed!!?? To y'all realize how courageous she has to be to decide to get gender reassignment surgery to remove her penis!!?? Who would choose to undergo that kind of elective surgery all nilly willy?? Would you?? Not me!! I couldn't imaging the fear I would have if I had to get my breast removed because of a cancer diagnosis; so I wouldn't even entertain the thought, unless it was life saving! Do y'all realize how long Bruce Jenner lived a double life?? Do y'all realize that #BruceJenner suffered in silence as a man, when his soul, heart mind and body was a woman?? Can you imagine being vilified because of the skin you're in?? Well I'm black so I do have some idea!! And trust me, IT AIN'T NO WALK IN THE PARK!! Sadly, #CaitlynJenner's pain dates back to his childhood!! Only a monster wouldn't EMPATHIZE with the pain that she was in all these years?? Over these decades, Bruce has been sneaking on women's clothing to feel normal!! To feel happy!! Even if for a brief moment!! He even stopped and started hormone therapy intermittently over the years, but abandoned the process because he felt very conflicted and guilty as he looked into his young children's eyes. He just didn't want to take them though that kind of drama and hurt. That's admirable! I wish more parents were that unselfish!! Now that her kids are grown, Caitlyn Jenner is doing her!! And I'm loving it!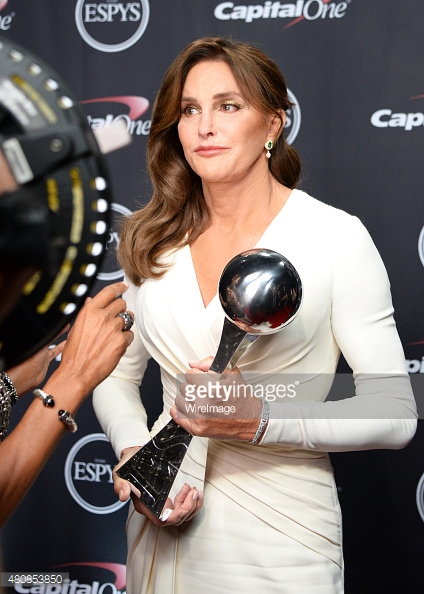 STOP IT! And STOP IT NOW!! Let Caitlyn enjoy her moment in peace!! No you don't have to agree with her receiving this honor!! No you don't have to agree with her being transgendered!! This is America and you have the freedom not to! But those people who are sending death threats and social media hate messages, YOU AUGHT TO BE ASHAMED OF YOURSELVES!! Are you gonna miss a meal because she was honored at the Espys?? Are you gonna loose sleep because she was honored at the Espys?? Are you gonna lose your life because she was honored at the Espys?? Ok, so what the #cluck is the problem?? As the old saying goes, "Live and Let Live!!" Here's a thought, try taking the high road by being an advocate, rather than an adversary!! Or is that, as they say, "too right??"
Oh yes, I was watching the Espys and pumping my fist: "go Caitlyn, "go Caitlyn, "go Caitlyn, "go Caitlyn, go, go, go, go, go!! LOL. She marched on that stage in that gorgeous designer, white, gown, her long, flowy, weave and spoke so eloquently about her courageous journey!! "I wanted to come out because I didn't want to hurt anyone else," she explained. "Transgender people deserve something vital!! They deserve your respect!! It's about accepting people for who they are!!" Very well said!! In my view, that's not asking too much!! Acceptance doesn't in any way mean you must agree with or like her. OMG, Is It Only Me!!??
They say that change hurts!! Maybe Caitlyn getting the Espy is one small step against homophobia. BTW, anybody who is pissed off after reading my blog post, YOU JUST TOLD ON YOURSELF!! If the shoe fits, wear it!! If it don't apply, let it fly!! Oh, and for those of you who want to learn about her journey, I suggest y'all watch her docu-series, "I Am Cait," premiering on E!, 8pm ET, Sunday, July 26, 2015. It's gonna be must see TV!!
Welp, "You have entered MY WORLD!! Where I tell it MY WAY!!"
Last modified onSunday, 31 January 2016 12:02