Bobbi Kristina Never Had A Chance!
Featured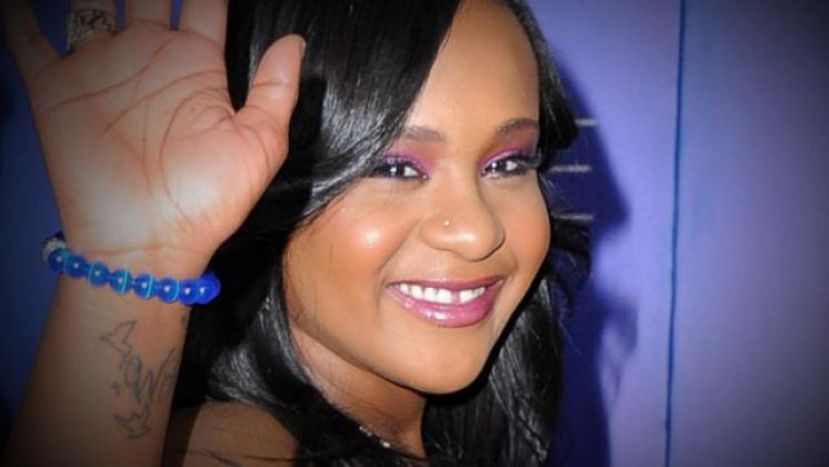 Bobbi Kristina's death, on Sunday, July 26, 2015 was tragic!! I think we were all hoping that she would come out of the coma and turn her life around!! But unfortunately that didn't happen. Her death came nearly three years to the day of Whitney Houston's death, which is so eerie. #BobbiKristina made it no secret how much she missed her mom since her death, which is what I think was the reason why she began living recklessly and spiraling out of control!! She was taking drugs, drinking and partying hard!! Something tells me that she was numb and using substances to medicate her pain.
In 2012, I actually had the pleasure of speaking extensively with Bobbi Kristina and her fiancé, Nick Gordon, at the red carpet premiere of the #Lifetime docu-series, "Houstons On Our Own." We discussed if she thought that the show airing was too soon after her moms death and her response was, "No." Krissi was actually very excited to be a part of the series because she wanted to share her life with people on her own terms, rather than from what the media and paparazzi reported. Bobbi Kristina was in great spirits!! She said that she knew her mom was looking down and wanted to make her proud of her accomplishments and to see that she could make it on her own. When she said, "They want us to fail, We won't!" I believed her!! I believed she wanted so much to bounce back, but unfortunately, that's impossible when you have people in your personal cypher who are living as recklessly as you are and Nick Gordon was that person.
Don't get me wrong, Bobbi & Nick were very lovely. We chilled, and talked over some great food, music and libation. They were both very, very, very regular and approachable. I enjoyed both of them. Krissi even gave me a big, familiar, hug when we parted and she didn't know me from a can of paint. It was really sweet. But because I'm long in the tooth, deep down, I knew that those two were in the throws of addiction, but I was definitely rooting for them to come out on the other side.
However, when it was announced that the "Whitney" biopic was coming to #Lifetime, I was worried!! By that time, I had a sense of Bobbi Kristina and I knew she wasn't going to like it. Krissi actually wanted to play her mom in the movie but the Director Angela Bassett, rightfully so, said no!! "I know she's acted here and there. I know she's been on her family's reality show, but she's not an actress and acting is a craft,"Bassett told Entertainment Weekly. "This is a very fast-paced schedule; we have just 21 days to tell this story. It's more than just saying lines and turning the lights on. You have to drive the story — there's a technical aspect."
Well, Bobbi Kristina wasn't havin it!! She went on a very nasty #Twitter rant bashing #AngelaBassett. "Ha MsAng "basketcase" has such a damn nerve my lord, at least the world doesn't mistake me for the wrong sex…she has some #XtraEquipment," Brown tweeted. "When I win my first #Grammy or #Oscar, *Shrugs* hmmm whichever comes 1st, I'll be sure 2shout URname out b – tch! Hah UrTestResults = Male. Lmao." WOW!! She really ripped Angela!! But I'm glad that she eventually came to her senses and apologized. And I do think it was sincere.
Ok, here's the thing, while I absolutely agree that Bobbi Kristina wasn't ready on any level to play the role of her mom #WhitneyHouston, maybe Angela could have let her play the young Whitney or involved her on the production in some way by allowing her to give her input. Needless to say, after the "Whitney" biopic premiered on Lifetime, January, 17, 2015, Bobbi Kristina was then found submerged under water in her tub a short two weeks later on January 31, 2015. While I do not blame Angela Bassett nor Lifetime in any way for what happened to Krissi, the coincidence is too close to ignore. Seeing the troubled life of her parents, #BobbyBrown and #WhitneyHouston played out on screen, was probably just too much too soon. Can you imagine having to relive your dysfunctional childhood in such a public way!!?? After the premiere, I'm sure she also had to endure the unkind social media trolls. There is no one defining moment that led up to Krissi's tragic death, but I feel all of those elements played a role in taking her over the edge!!
The truth is, Bobbi Kristina was already spiraling out of control. We were all hopeful, but I don't think anything could have saved her but her. However, because of Whitney Houston's icon status, any story about her life is evergreen!! So while I love Lifetime like a fresh fruit salad, they could have held off for maybe a few more years before releasing the biopic and it would have still been must see TV!! I just think it was a little insensitive so soon after Whitney's tragic death!! But I totally get that in the world of entertainment, it ain't personal.
The fact of the matter is, Bobbi Kristina Never Had A Chance!! Unfortunately, she grew up for over fourteen years in a household of two drug addicted parents. And no amount of money can soften that kind of dysfunction. That's what some people don't seem to get!! The disease of drug addiction doesn't discriminate!! I know from personal experience. I dated a guy in college whom I shall call "Summit," who was a drug addict/alcoholic. And when I tell you that I went through pure HELL!! You don't know the half. He smoked up his money on crack and would tell his mother I stole his rent money from him so he could manipulate her into giving him more money to feed his habit. "Summit" was always in and out of mood swings when he was either on dope or jonesing for a fix. He was always in and out of drug sleep and couldn't be awakened. I mean I could go on but you get the point. Luckily I was an adult and I didn't live with him, so I was able to leave his junkie a_s in a greasy spot and never look back. But an underaged, child who lives with their parents, in an addictive home, can't do that!! They are totally dependent on the adult to take care of them, but instead of getting nurtured, they are forced to be the grown up who turns into the parent. Sadly, that is what I think life was like for Bobbi Kristina.
So it's not surprising that Bobbi Kristina grew up to be a drug addict too. Her death should be a wake up call for ALL parents who are drug and alcohol addicted, to please STOP!! Get help!! Your child's life depends on it because unfortunately, as the old saying goes, "children don't do as you say, they do as you do!!" Bobby Brown should be ashamed of himself!! I don't know if he feels some measure of guilt or culpability for Krissi following in his footsteps, but I hold him and Whitney responsible for Bobbi Kristina's choice to go down the rabbit hole of abusing drugs and booze. That's what she was familiar with!! That's what she knew!! That's what she was comfortable with!! It's just sad!! There are no winners here.
From the moment Whitney Houston got with Bobby Brown, people have always blamed the beautiful songstress' drug addiction and impending down fall on him; even till now. Well the fact is, Whitney Houston was on drugs loooong before she met Bobby. In fact, her brother Michael Houston admitted in an Oprah interview that it wasn't Bobby who introduced Whitney to drugs, he did!! He told how they had been freebasing cocaine together since the 1980's. He shared that he was very young and didn't know that doing cocaine was addictive. A lot of people didn't know that back then. He sobbed as he expressed his sorrow for what happened and how he does blames himself for playing a role in her addiction. I can respect the fact that he takes responsibility for his contribution.
Of course over time, as Bobby and Whitney became an inseparable couple, he said she introduced him to, "the narcotic." Bobby revealed that prior to dating Whitney, he was more of a drinker. Not that it matters. Drinking in excess and or drugging, is all a bad deal. I just wanted to address that rumor because it's something that people are still debating.
Back on December 4, 2002, when we all watched the Diane Sawyer "Primetime" special on Whitney Houston where she said the infamous quote, "Crack Is Wack," I knew then, that she wouldn't live long. Of course I hated thinking that. I loved Whitney!! I was a huge fan for years!! She's a homegirl from my hometown of Newark, NJ. So the fact that those thoughts were in my head and heart was troubling. Many things that she said in that interview with Diane, lead me to know that she wouldn't be with us much longer. One of the most disturbing things was when she said she went to rehab and left because one of the counselors were mean because he told her that 95% of addicts return to rehab. Ok, right then I knew she wasn't ready yet!! She wasn't ready to face the truth of her addiction!! Because the fact is, ADDICTION IS MEAN!! Not rehab!! I was truly hoping I was wrong about what I was feeling but as it turns out, sadly I wasn't.
After the announcement of Whitney's tragic death on February 11, 2012, the world seemed to stop! We were all in shock at the passing of one of our most beloved icons. Everybody was immediately concerned with the wellbeing of Bobbi Kristina. She was so young to have to lose her mother. Unfortunately, she began acting out and living on the edge because she couldn't cope with the loss of her mom. From what I understand, they were very, very close. Fast forward, nearly three years to the day of her mother's death, Krissi died a few months after having been found in her tub unconscious, in a similar fashion to how they found Whitney. Although Bobbi Kristina's death was tragic, I think she is at peace now.
Bobbi Kristina's funeral took place on Saturday, August 1, 2015, at St. James United Methodist Church, in Alpharetta, GA. While we were all hoping that the funeral services would happen without incident, unfortunately, that wasn't the case. Her aunt, Leolah Brown was thrown out of the memorial service after interrupting Pat Houston as she walked up to the podium to speak; causing drama!! "How dare you!! How dare you," yelled Brown. "Whitney will haunt Pat from the grave!!" WOW!! I don't know what that was about but something tells me this is only the beginning!! I think in the days and weeks to come, we are gonna see Bobby Brown wrangle #PatHouston in court to be the beneficiary of Bobbi Kristina's estate, since he is her next of kin. I think we're gonna see an investigation of her fiancé #NickGordon for those suspicious bruises found on Krissi's body. Were they the result of domestic violence?? Were her injuries in any way connected to her death?? Only time will tell!!
#LisaDurdenPopCultureCommentator.
Welp, "You have entered MY WORLD!! Where I tell it MY WAY!!"
Image/s via abcnews.go.com, midshot_eonline.com, bet.com, lifeandstylemag.co
Last modified onSunday, 31 January 2016 12:01