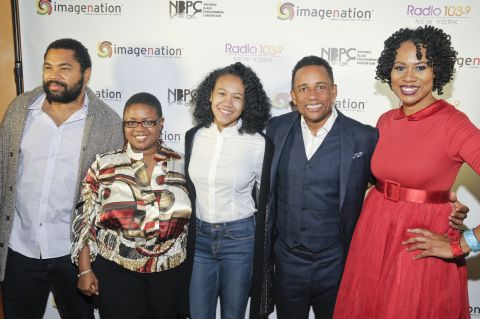 When Jada Pinkett-Smith took to social media with her controversial video vowing to boycott The 2016 Oscars, it went viral!! Even sparking a new hashtag, #OscarsSoWhite. Yeah yeah that's cute, but long before Black Hollywood got pissed and decided to speak out about the black out at this years Oscars, ImageNation Cinema Foundation, has been hosting Cocktails, Cinema & Revolution: An award ceremony that kicks off Black History Month, celebrating black excellence, artistry, activism and independent film. It's off the chain!! This years Honorees included Oscar-nominated director for Selma, Ava DuVernay; author/actor/activist and star of Limitless and CSI NY, Hill Harper; professor/author/journalist and host on MSNBC, Melissa Harris-Perry; actor/writer and star of AMC's The Walking Dead, Danai Gurira; and Nakisha M. Lewis of BlackLivesMatter.
Media sponsor's, 103.9FM's on-air personality Terry Bellow, hosted the event and he killed it!! His jokes and lively commentary was the comic relief that made the celebration pop!! The sold out soiree held at the SVA Theater in Chelsea, was packed with a list of who's who in black entertainment: actress Susan Kelechi Watson, Emmy award winning hair stylist Lavette Slayer and Marvet Britto, to name a few. The evening jumped off with stellar performances by vocalists Jeremy James and Candice Hoyes.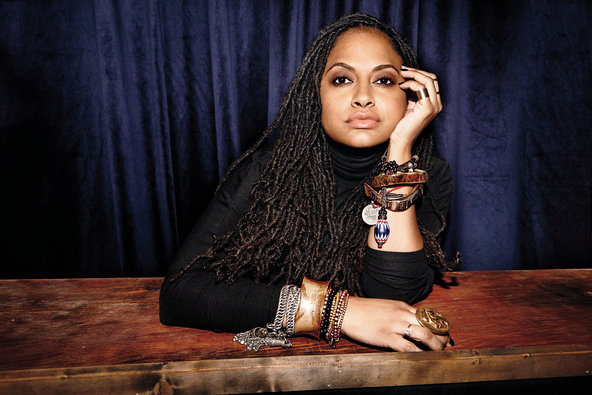 Because Ava DuVernay is in production on 'Queen Sugar,' a drama for The OWN Network, she wasn't able to attend, however, she sent a heart felt video message accepting her Revolution Award for Trailblazing Achievements and in celebration of her fellow honorees saying about Danai, "I feel fortunate to live in a world where a voice like that not only exists but is being amplified and is shining so beautifully. And sharing her love for Melissa Harris-Perry's MSNBC show saying, "She is a triumph sitting there on that show every week, a triumph for women, a triumph for people for color, a triumph for people who live in justice and dignity, a triumph for nerds."
Acclaimed director and activist Warrington Hudlin, founder of the Black Filmmaker Foundation, and Black Girls Rock! founder Beverly Bond, presented The Ida B. Wells Revolution Award for Excellence in Journalism to Melissa Harris-Perry. Film Director and producer Tommy Oliver presented actor, author and activist Hill Harper with The Revolution Award for Art & Activism. Actress Zainab Jah of the upcoming Broadway play, Eclipsed presented the Revolution Award for Artistic Excellenceto actress playwright Danai Gurira. and Yasmeen Sutton, a former member of The Black Panther Party celebrating it's 50th Anniversary, presented the Revolution Award for Freedom to Black Lives Matter member Nakisha M. Lewis who accepted the award on behalf of founders Patrisse Cullors, Alicia Garza and Opal Tometi.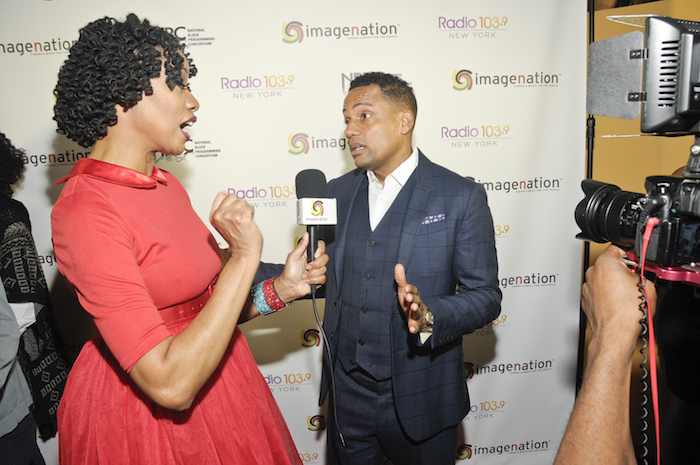 I hit the red carpet real hard for exclusive interviews with the honorees and they didn't disappoint!! Hill Harper had this to say about #OscarsSoWhite, "With Hollywood and what films they decide to promote and put marketing dollars behind, to deem them quote unquote Oscar worthy, may not be the films that folks wanna see! As you can see, this is a packed house today because this is a special event!" I can't agree with Hill more. Although I love all film and I pay my $10 bucks at the box office to watch movies from a diverse genre, it's sad that I'm still saying what my grandmother said in the era of silent movies, "Hey black people are on the big screen." That shouldn't be a surprise in 2016, it should be a given!!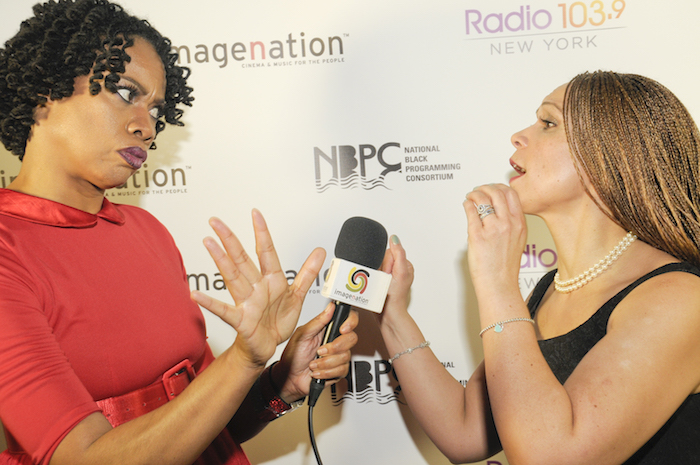 I felt compelled to ask Melissa Harris-Perry about her recent scare from some crazy man that had stalked her and maybe even wanted to kill her as she watched the caucus returns with her students in a hotel lobby, "Part of what I was gonna talk about tonight was about Ida B. Wells, what they did to her, the fact that they burned her house down, they ran her out, there was a possibility for death for her and her family. This is actually very much in a long tradition on what it means to be a journalist, particularly a journalist who speaks on matters of race and gender." WOW!! My mouth dropped. Deep!! And scary!! Because I too am a journalist who speaks out against racial inequality as a contributor on Fox's The Kelly File and American Now with Meghan McCain and I get such hate snail mail, email, tweets and comments on my fan page but I never entertained the idea that someone would hate a person's views some much that they would stalk them and attempt to kill them. This is eye opening!!
Danai Gurira's words were very apropos, "The thing that keeps coming to my mind as I thought about this award today, and as I was so touched and honored to be involved, to be a part of this, to be amongst these amazing other people as a scripture that say, 'to whom much is given much is expected.' No one can operate in a vacuum. That sort of collaboration is at the core of what I was asked about tonight, about black excellence, seeing each others light and affirming each other and then our own light shines," she said tearfully. "I would love to see more and more women of African decent shine! It's my artistic mandate to do that! To put stories on the page! Then I have no excuse! It's my job! It's my calling! It's my purpose! And I'm thankful that you've given me this award. I'm thankful for the affirmation. It's so important to me to focus on where my energy needs to go. I do think that the revolution should be happening!"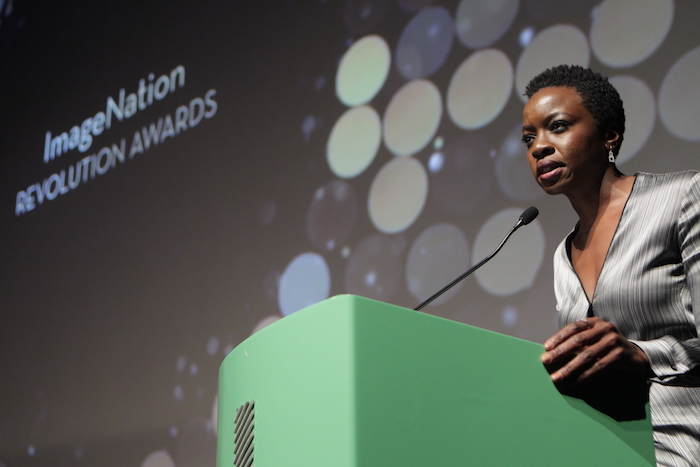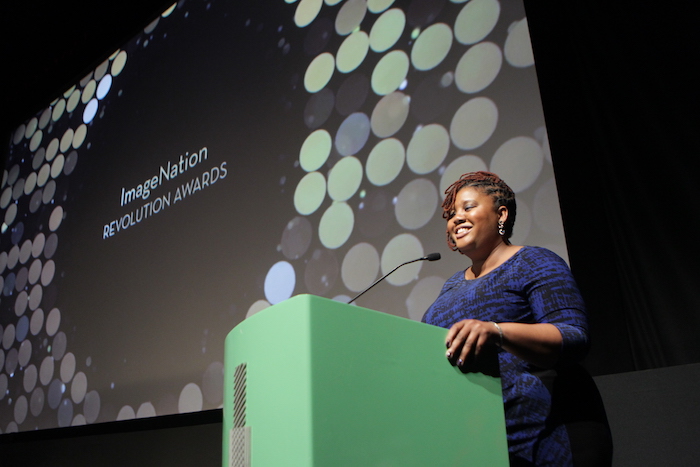 Nakisha M. Lewis kept it 100, "First of all, thank you so much for the honor in receiving the freedom award, it's something not only to us as a people. People have to be out in the streets whether they're in classroom or in community, disrupting the narrative about black people and creating a new narrative; one that means that we are people worthy of respect, worthy of dignity and freedom is ours!!" She cleared up the fact the Black Lives Matter is not just a hashtag nor is it a hate group, "Black Lives Matter is the digital footprint that sparked a movement!! We live in the legacy of freedom fighters! We don't come as this new anti-white hate group, we come as proud black people seeking freedom in the spirit of Ida B. Wells and Fannie Lou Hamer.
Immediately following the awards, we screened Sway Calloway's short film, The Cycle, about policing and racial profiling and director Tommy Oliver's very personal feature film, 1982 about his mother's addiction to Crack, which stars Hill Harper, Sharon Leal, La La Anthony, Wayne Brady and the late great Ruby Dee. The evening closed with a very powerful, thought provoking panel with Hill Harper, director Tommy Oliver, the renowned psychologist Dr. Jeff Gardere, Troi Zee and moderated by image activist Michaela Angela Davis. The after party turn up was held at the trendy Meridian 23 in Chelsea.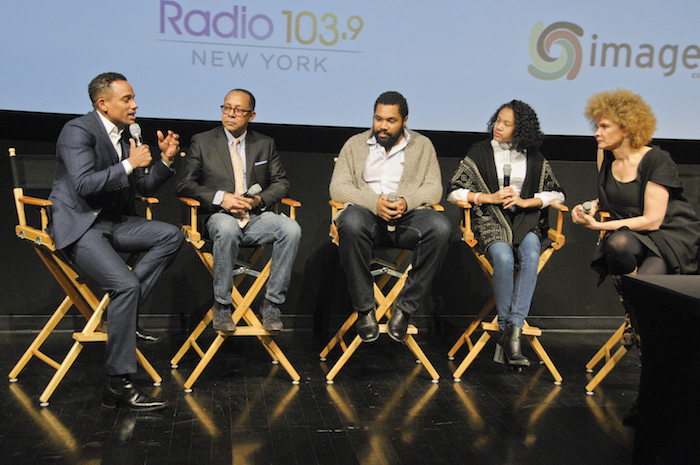 Additional partners and collaborators like The National Black Programming Consortium and The Newark International Film Festival, who were in support of ImageNation's Revolution Awards, helped to make it a great success! I was also proud to be the producer of this years Revolution Awards. "We are so thankful for everyone who supported this truly stellar show of solidarity through Black art and activism. The energy was electric and we look forward to a magnificent 2016 packed with great programs and the opening of our ImageNation Sol Cinema in Harlem, later this year," expressed Imagenation founder, Moikgantsi Kgama.
For more information about ImageNation Cinema Foundation log onto www.Imagenation.us